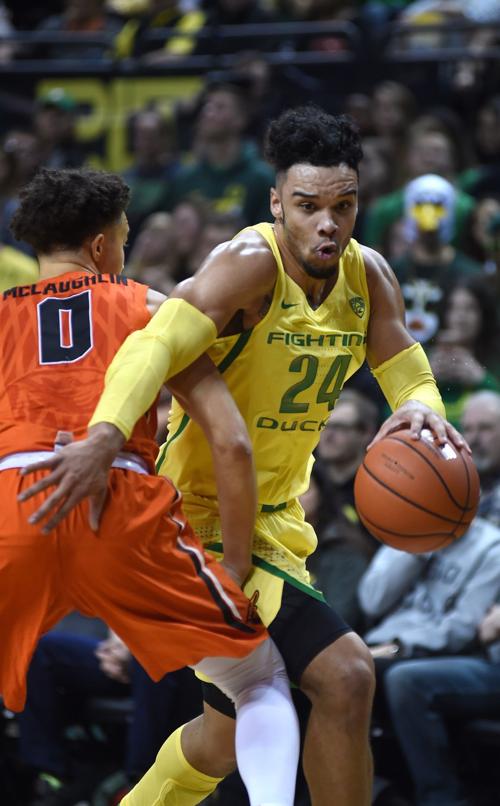 Here's a look at Oregon, the Beavers' opponent Saturday in the regular-season finale at Gill Coliseum.
The sixth-ranked Ducks (26-4, 15-2) are tied for first in the Pac-12 standings with Arizona. A win against Oregon State gives Oregon its second straight regular-season title for the first time in school history and the top seed in next's week's conference tournament in Las Vegas.
Oregon is also playing for what would be a school-record 16 conference wins.
The Ducks have won five straight since an 82-79 loss at UCLA on Feb. 9.
Junior forward Dillon Brooks, who has hit three game-winning shots this season, leads the team in scoring at 15.6 points per game. He also averages 2.7 rebounds and 2.9 assists.
Oregon also gets contributions from sophomore guard Tyler Dorsey (12.8 points, 3.4 rebounds), senior forward Chris Boucher (12.1 points, 6.3 rebounds, 2.6 blocks), senior guard Dylan Ennis (11.1 points, 4.2 rebounds, 3.1 assists) and junior forward Jordan Bell (10.8 points, 7.8 rebounds).
Bell shoots 62.7 percent from the floor, second in the Pac-12. Boucher leads the conference in blocks. Bell is fourth at 2.0.
Brooks, a conference player of the year candidate, is averaging 20 points 56.8 percent shooting (12-24 on 3-pointers) in the last five games. He's scored 20 or more in 10 games this season.
Oregon ranks second in the nation in blocks (6.9) and eighth in scoring margin (plus-14.3). The Ducks are second in the Pac-12 in field goal percentage defense (40.0), 3-point percentage defense (30.9), assists (16.9).
The Ducks won the first Civil War game of the season, 85-43 on Jan. 14 at Matthew Knight Arena.
Oregon led 21-0 and 41-13 at halftime. Payton Pritchard had 17 points and Ennis 16 points, four rebounds and five assists for the Ducks. Drew Eubanks had 19 points (7-10 shooting) and six rebounds for the Beavers.
Oregon shot 27 of 52 (51.9 percent) and Oregon State 16 of 51 (31.4). The Beavers had 21 turnovers and the Ducks 11.