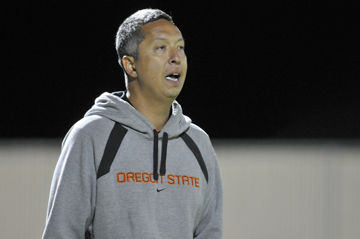 Really, there are no easy games on the Pac-12 men's soccer schedule for Oregon State, or any other team for the matter.
Four of the six teams reached the NCAA tournament last season — the same four who are ranked entering this week — and all four reached the final 16, with two advancing to the quarterfinals.
The Beavers, however, have struggled the past two season, going a combined 1-15-4.
But the players and coaches are optimistic that will change this season.
It begins Thursday night with a showdown with No. 18 Stanford (6-1) at 7 p.m. at Paul Lorenz Field.
Coach Steve Simmons said Stanford is a well-organized side that reminds him of the way the Beavers (7-2) play.
"They've got some special players," Simmons said. "They are very committed how they play and they've tasted success."
You have free articles remaining.
Stanford made it to the tournament and won its first two games before losing to Pac-12 rival Washington, 1-0, last season.
"We want to taste that same type of success," Simmons said.
The Beavers lost both games to the Cardinal last year, 2-1 early in the season and 1-0 in overtime at the end of the season.
They lost 3-2 and tied the Cardinal 2-2 in 2012.
"Our games with Stanford in the last go-arounds have been one-goal (losses), ties, dramatic for the most part," Simmons said. "I'm not going to expect anything less on Thursday night.
"It will be tight so we live on a margin of error that is very, very small. The guys know that. But at the same time we've got to play to make plays and not to make mistakes."
The Beavers have a number of young players this year who have contributed, including freshman Timmy Mueller, who leads the team with six goals, which is second best in the conference and 12th in the NCAA.
How will the Beavers respond to the increased competitiveness?
"You don't really know until you get out there in live ammunition so we're excited for Thursday," Simmons said.
Steve Gress is the sports editor of the Corvallis Gazette-Times. He can be reached at steve.gress@lee.net.