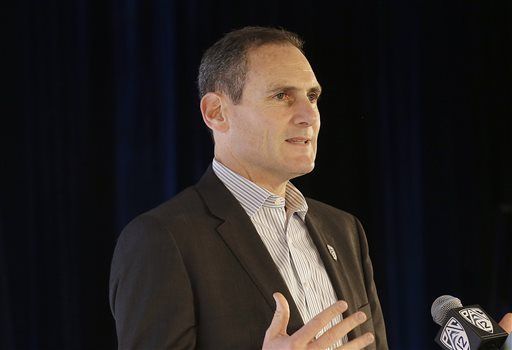 Pac-12 Commissioner Larry Scott should check his facts before speaking next time, especially when it comes to the number of late-starting games for his conference's schools.
Ken Goe of The Oregonian quoted Scott, who was at Reser Stadium last Saturday for the Oregon State-Cal game — which started at 7:30 p.m. — as saying: "This is a topic getting discussed at every one of our meetings. We know fans are struggling with too many night games.
"We're also making sure it gets spread evenly."
I guess I am unsure what the definition of evenly is these days.
With Monday's announcement of yet another 7 p.m. or later local start time for Oregon State — the Beavers host Arizona State on Nov. 15 with a kickoff set for 7:45 p.m. — that makes five of the Beavers' first 10 games in the late time slot.
You could make it six of 10 if you count the Hawaii game, which kicked off at 4:30 p.m. in Hawaii but 7:30 p.m. here in Corvallis.
Oregon will have played five games starting after 7 p.m. after this week's 7 p.m. kickoff at Utah.
Washington State and Cal will both have played four while Washington has had one (two if you count Hawaii) and Stanford just one.
The game at OSU will be Arizona State's seventh 7 p.m. or later start.
Arizona has played six, Utah five, UCLA four, USC three and Colorado one.
That's five teams with five or more late starts, three who will have played four and four with three or fewer.
The late starts were a hot topic last season and OSU fans are getting sick of them again this year.
And, they are also getting sick of going to late games when the team is not playing well.
I posed the question on Twitter as to what they thought of the late games and here are a few responses I received.
• "gave up 4 season tics, tried 3 Pack — all nights. Bottom line done"
• "Due to poor play and late starts, after several years as a season ticket holder, sadly I will not renew.
• "Ha, or have young kids that you want to share the experience with."
• "time to get rid of the lights at the stadium! Then we can play day games again!"
• "Not helping a disillusioned fanbase stay interested. All adding up to this program being in bigger trouble than they'll admit"
But not everyone is upset. I received this response as well: "Sat night games are great. You get all day Sat to get stuff done. What's the problem unless your over 75. OSU fans are soft"
I get why there are night games. It's about accommodating TV windows and making money.
There may not be a whole lot Scott can do about the time slots.
I will give Scott a little credit for adding an earlier time slot on the Pac-12 Networks with an 11 a.m. kick.
But that meant Washington and Colorado kicked off at 10 a.m. in Seattle.
Last week featured three conference games that started after 7 p.m. — Arizona at UCLA at 7, Cal at Oregon State at 7:30 and Utah at Arizona State at 7:45 p.m.
If you want people to watch games in your conference, it's tough to have half them being played at the same time, and past many of the East Coast fans' bedtime.
That's tough to answer but one Scott and the conference athletic directors and presidents need to work on again this offseason.
Steve Gress is the sports editor of the Corvallis Gazette-Times. He can be reached at steve.gress@lee.net.