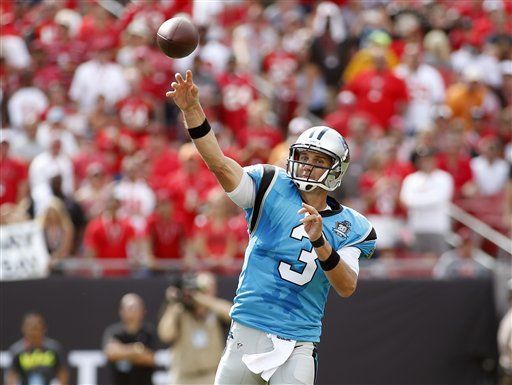 Editor's note: Usually I will post an update on Sunday nights about how former Beavers faired in the NFL over the weekend
To say it was a banner day for Oregon State football on Sunday would be an understatement.
That's when a number of former OSU stars made major impacts for their pro teams.
Let's go with quarterback Derek Anderson (2001-04), who got the start for the Carolina Panthers with Cam Newton nursing an injury.
Anderson completed 20 of 34 passes for 230 yards and two touchdowns as the Panthers held on for a 20-14 win over Tampa Bay.
Or how about the receiving tandem of Brandin Cooks (2011-13) and Markus Wheaton (2009-12)?
Wheaton, who you can read more about here, had six catches for 97 yards. His final catch set up the Pittsburgh Steelers for the game-winning field goal in a 30-27 victory over Cleveland.
Cooks, in his regular-season debut with the New Orleans Saints, caught seven passes for 77 yards and his first touchdown as the Saints lost a 37-34 decision in overtime to Atlanta.
Cooks wasn't the only former Beaver to score in that game. Falcons running back Jacquizz Rodgers (2008-10) had six carries for 34 yards, including a 17-yarder for a TD that put the Falcons up 31-27.
Steven Jackson (2001-03), who missed all of the preseason with an injury, had 52 yards on 13 carries for the Falcons.
You have free articles remaining.
Also in that game, defensive back Keenan Lewis (2005-08) had three tackles and one defended pass for the Saints.
Punter Johnny Hekker (2008-11) had a busy day for the St. Louis Rams, punting six times for an average of 45.5 yards per kick. He had a long of 57 and had two downed inside the 20 in a 34-6 loss to Minnesota.
Vikings rookie defensive lineman Scott Crichton (2011-13), had one tackle in his debut.
Defensive tackle Dwan Edwards (2000-03) had a sack for the Panthers.
Nose tackle Stephen Paea started and had three tackles in Chicago's 23-20 loss to Buffalo.
Cornerback Jordan Poyer (2009-12), had a tackle for Cleveland.
Washington linebacker Gabe Miller (2007-10) played but did not record a tackle.
Andy Levitre (2005-08) got the start at left guard for Tennessee in a 26-10 win over Kansas City.
Miami quarterback Matt Moore (2005-06) was active but did not play in a 33-20 win over New England.
Philadelphia offensive lineman Josh Andrews (2010-13), New England cornerback Brandon Browner (2003-04), Minnesota offensive lineman Mike Remmers (2008-11) and Jacksonville cornerback Rashaad Reynolds (2010-13) were not active.
Browner is serving a four-game suspension while Reynolds is on injured reserve.
Chad Johnson (2000) and James Rodgers (2007-11) may not be on NFL rosters but shined for Montreal in the Canadian Football League.
Johnson had three catches for 73 yards, and Rodgers had an 83-yard punt return for a score in a 38-31 win over Hamilton.
Steve Gress is the sports editor of the Corvallis Gazette-Times. He can be reached at steve.gress@lee.net.