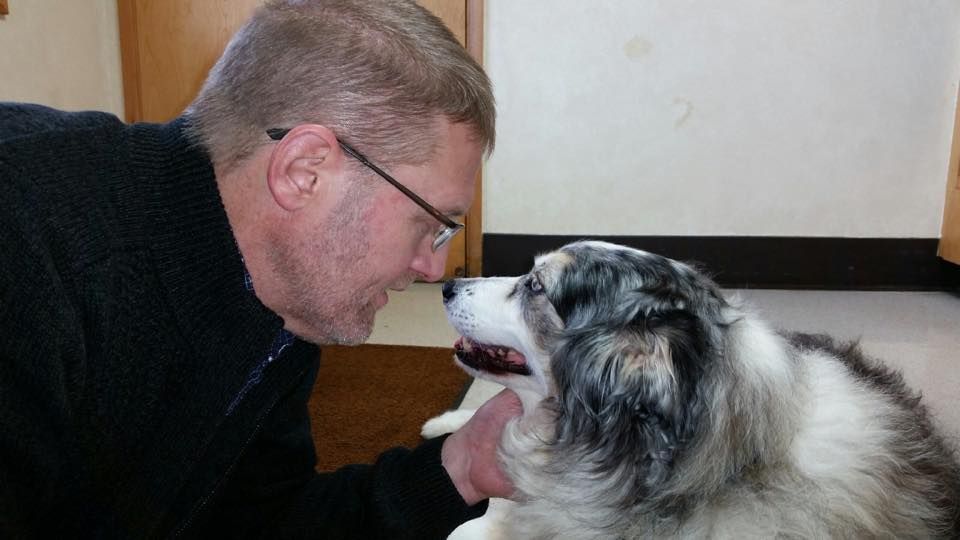 Given that we're all going to die someday, framed against that reality, the end for my dog Jewel was about the best anyone could hope for either for himself or a loved one.
Her Monday death by euthanasia was peaceful, there was minimal suffering and decline beforehand, and it followed what by any measure had been a long and terrific 13-year life filled with love and adventure.
Had my strikingly beautiful, unfailingly gentle, thoroughly devoted blue merle Australian shepherd been hit by a car, or shot, or had ingested poison, or had gotten lost and never been found, then her final chapter could have been described as a tragedy. I'm thankful I can avoid that description, because that would make dealing with her passing much more difficult.
I'm grateful because it's tough enough as it is.
Jewel came to me from SafeHaven Humane Society in July 2002 as an eight-month-old. She'd arrived at SafeHaven as an "owner surrender," meaning the person who'd had her didn't want her anymore.
Myself, I was ecstatic to have her, especially since I had just lost Data, the border collie I'd inherited upon my father-in-law's death two years earlier, to cancer. Data -- his previous owner had loved "Star Trek: The Next Generation" -- was 11 when he had to be put down.
Jewel spent the next 13 years keeping me company, warming my heart and making me smile -- through some of the more difficult challenges and transitions anyone can go through. I regularly felt like she was the primary force that kept me going, her unconditional love, loyalty and acceptance serving as fuel for an oft-flickering flame.
Gradually, ultimately, life settled down more or less, but Jewel's importance to me never waned. For one thing, she went with me almost everywhere, including to the Democrat-Herald, where she enjoyed incredible popularity among staff and visitors.
For another, she was the best workout partner anyone could have; it's no exaggeration to say that on foot -- training runs, walks around town, hikes in the woods and on the beach, etc. -- she and I covered countless thousands of miles together.
A year or so ago, she started having trouble keeping up with me on runs, though I'm far from blazingly fast. She still loved to get out, though, so I just decided I'd go on hiatus from running and instead take Jewel on daily 4-mile walks; the last of those was just a few days before her death. She was pretty much complete to the end.
You have free articles remaining.
Jewel spent her last week recovering, so I thought anyway, from a minor mishap on the stairs leading to my front door. Near the bottom of the steps, while going down, she'd stumbled, and I feared she had dislocated something because of the awkward way she was holding her right front leg.
But she quickly pulled herself together and after a few days of limping a bit, she seemed fine. On Dec. 18, Celia's Mobile Grooming got her all prettied up for Christmas, and two days later, Jewel was so energetic it seemed like the clock had been turned back a couple of years.
But late Saturday night, she was suddenly lame, with a Ping Pong-ball-sized bulge on her right elbow. The lameness and lump persisted Sunday, and on Monday, an X-ray showed that she was full of cancer and had lost lots of bone to the malignancy.
There was nothing to do but ease her gently out of this life. I cradled her head, talked to her for a bit and explained what was happening, and she seemed at peace, like she was trying to comfort me. Like she was saying, "It's OK, I understand, you always did everything you could for me; it's my time, and we'll be together again someday."
I reflected back on a Readers Digest article I'd read decades ago in which a fellow, upon having his dog put down, wondered if anything else would ever hurt so much.
I've been through this many times and the pain is always excruciating. It's also in a way ennobling, because it's dedicating yourself to an animal's life that makes such agony possible.
After I grieve for a while, I'll give myself over to that dedication again with another pet. No one can take Jewel's place, but that's not really how I see it anyway. I look at it like every pet I've had is a link in a chain; each animal is special in its own way, and each is part of a larger picture -- the one in which I share mutual enrichment with as many beloved pets as I realistically can before I too depart this Earth.
Yes, I could avoid further pain from losing animals by not having any more, but that's both self-defeating and selfish -- there are creatures out there that need loving homes, and I need their love in my home.
So after a while, when I'm ready, I'll add another link to the chain.
In the meantime, I'll focus on everything that last link meant to me. To all of you who knew Jewel and helped make her life so joyful, thank you. And to all, Merry Christmas.