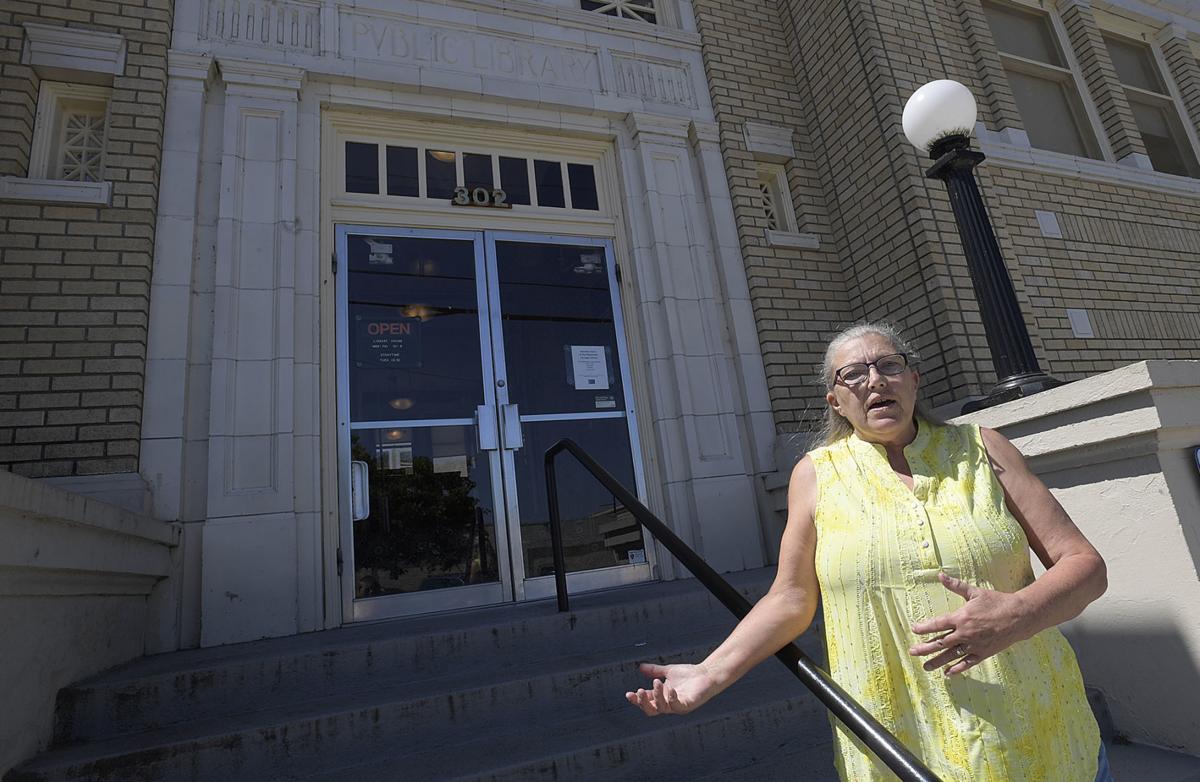 In 1913, architect William F. Tobey broke ground at the corner of Third Avenue and Ferry Street in the place where the Albany Carnegie Library eventually would stand.
In 2019, the Albany City Council broke library lovers' hearts with a proposal: Close the library and use the money to fill a gaping budgetary hole in the city's public safety system.
It was one of more than a dozen suggestions considered last month as the City Council grappled with rising Public Employees Retirement System costs, a growing population and a need to provide services as costs outpaced revenues. A $200 per bed fee for assisted living facilities garnered attention, as did the possibility of a soda tax, but the closure of the Carnegie library has also gained traction.
"My thinking was not talking about tearing it down but repurposing it," said Councilman Rich Kellum. Kellum and Councilor Bessie Johnson were the first to suggest the closure as a cost-saving option for the city.
"They cannot name any book, periodical, magazine, whatever, that they will no longer have access to," Kellum said.
"They" are opponents of the library's closure. Access, Kellum and Johnson say, will come in the form of the main library, located at 2450 14th Ave SE.
But library supporters, including Albany Library Director Ed Gallagher, say the Carnegie closure would affect the main branch's hours and the savings would be minimal.
It costs just over $215,000 to operate the Carnegie Library every year, Gallagher said, and most of those costs are in personnel.
"You don't just close the building and suddenly $200,000 appears," said assistant librarian Amanda Bressler. "That means eliminating two positions for us, laying off existing positions because that's basically the cost of running this building. The building itself doesn't produce that money, it's staffing."
Johnson, however, said she hopes the library could avoid layoffs.
"I think the council has been racking our brains as to what we can do," she said. "That's $200,000, and maybe instead of getting rid of positions, it can be consolidated and save positions. Maybe we could repurpose it and maybe get people to rent it and get money that way."
While Johnson suggested a civic use for the library, such as a city hall facility, Kellum originally suggested a coffeehouse, citing an increase in classroom technology and the ability smartphones and computers have to store thousands of books.
The disconnect between the notion that books are increasingly becoming obsolete and the functions of a library, Bressler said, is part of the larger discussion about the possible closure of the Carnegie.
"We provide great service on a shoestring," she said. "We've had more than 3,000 kids sign up for summer reading this summer. I mean I think we do really fantastic work on what we have and to cut it more we just can't sustain it."
Bressler pointed to the work of New York University sociologist Eric Klinenberg, who has studied the effects of libraries — and their closures — in communities nationwide.
"Libraries are vital to the social infrastructure," he said. "They're essential for the health of a community and we don't always recognize what a vital role they have because we haven't had the language to define it."
Klinenberg said that in his research, when a community faces a hurricane, heat wave or other type of emergency, residents regularly head to the library for shelter and information. In everyday life, he said, libraries amount to much more than just books.
"In many places people do not have internet access," he said. "There are government programs you can only get online by applying online. Next year the census is going to be online for the first time in history. Libraries are special because they open their doors regardless of class, age, immigration status, political ideology."
Bressler said the Carnegie library often sees children after school, senior residents, homeless individuals and other community members on a regular basis who take part in children's programs, use the computers or rent movies and DVDs. And while many of those services would move to the main library, access is a sticking point for Carnegie's supporters.
Johnson said she recently received an email that pointed to the easy downtown access of the Carnegie Library as a reason to move to Albany.
"Things aren't going to stay the same; I'm sorry, but they don't," she said. "I have to drive to either library or the grocery store. Things don't stay the same just because you buy there. Things are going to change."
In regards to the argument for access, Kellum said, "To that I say, that's bogus. Two blocks and they can go to the Senior Center, City Hall. They say it's not just books. Well, you know, it's not just books at the other library either."
According to Klinenberg, the closure of libraries and cities contemplating the maintenance costs of aging facilities is not new, but continuing to invest in libraries is indicative of a community's values.
"Access is not a light commodity," he said. "It's everything. If you have an elderly population or children or people with disabilities who can walk to the library, they're going to use it and they're going to come together and build relationships that wouldn't exist otherwise. The question is what is the city willing to invest in the health of its democracy?"
Kellum equates the library to older technologies like film cameras and says people aren't ceasing to use books, but they are cutting back.
According to the Pew Research Center — a nonpartisan, nonprofit organization that tracks social trends and issues — the relationship Americans have with print books has ebbed and flowed.
A 2015 study by the organization found that the number of adults who said they read at least one book in the previous year had dipped from 79% in 2011 to 72%. Its latest report, conducted in March 2018, reported that audio books were on the rise, but that print books remained the most popular reading format, and the number of adults who reporting reading a book rose from 2015 to 74% in 2018.
Despite the ups and downs of print books, Kellum and Johnson maintain the books and other services would remain intact at the main library should the city move to close the Carnegie.
"I think this library is more valuable to the community that it would be if it were sold," Bressler said. "How long would that money (from the sale) remain in the city's budget?"
The city passed a budget in May that saw cuts to several city departments including the library, police department and fire department. In the first year of the city's biennium budget, there is a shortfall of nearly $500,000 in the police department that was filled by freezing positions. The closure of the library and the $215,00 it costs to run annually, Gallagher said, does not fill that gap.
According to Kellum and Johnson, the closure or repurposing of the library would be only one part of a puzzle that would include cuts and revenue-generating options as well.
"Something's going to happen about it," Kellum said. "It might not, but they're going to get money from somewhere."
Challenges exist for any new business that would occupy the building, which is not currently compliant with the American with Disabilities Act. In addition, the Library Foundation, which has an endowment of approximately $1 million to service the Carnegie library, spent an estimated $50,000 last year in restoration efforts.
"It's going to be a difficult conversation when you have a community organization who just did a large project on the building and the next year you say, 'Thank you for that work, but we're going to close the building now,'" Gallagher said.
According to the City Council, the endowment funds could be spent on the main library and aren't tied to the Carnegie.
"It was one of nine suggestions, I think," Kellum said of the budgetary options the council considered. "Do I hate libraries? No, I don't hate libraries. Someone has to be an adult."
Be the first to know
Get local news delivered to your inbox!