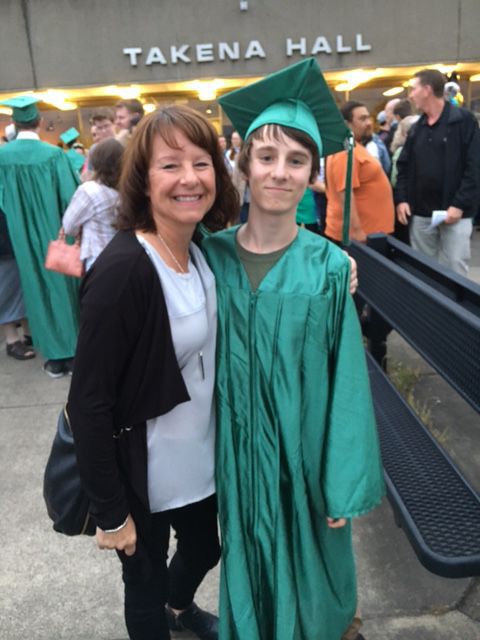 My son Henry started showing signs of disliking school in middle school. Up until then, his excitement about learning was hard to contain ... at home. He did, however, find it difficult to go along with a streamlined way of thinking as in the typical school system. His personality type pushed him to question things and always want to know the reason why something had to be the way it was. Needless to say, this could be annoying for teachers and us (his parents) as well.
Things became more difficult for Henry in high school. To make a long story short; he gave up. The once straight-A student, who was "tagged" as talented and gifted in elementary school, was willing go fail in order to get out of the system.
We did everything we could as parents to help him and try to change his thought process. We went to a counselor, had various tests done, went to OHSU to have tests done and changed his eating habits, we talked to his teachers and administrators at the school. Nothing seemed to help. We considered private school and he was seriously opposed to that, so we feared the same behavior would happen there.
Finally, six weeks until the end of his junior year, he had had enough. He had heard of Albany Options School, knew the principal there, and thought it would be a good school for him.
When I asked him why he stated, "It's small, the teachers there know everyone, and I think the atmosphere will allow me to get work done." Henry needed to be away from the crowds and the "high school" scene, he said. He looked me in the eye and said, "It doesn't work for me, mom. If you don't let me go, I will make myself flunk out. Please give me a chance." That was all I needed at that point and the decision was made.
AOS did all that Henry thought it would. It made him feel safe. He developed relationships with the staff. He made good friends, and felt like he was part of a community. He still questioned how and why the world functions like it does, but he felt listened to and respected. He took his school work seriously and graduated half a year early. He told me that AOS changed his life for the better, and thanked his father and me for listening to him and allowing him to go.
I think that Henry was the first AOS student that asked to be there instead of being sent there to recover credits. I would absolutely love to see Albany Options to become an option for all students. The style of learning and the atmosphere is more conducive to alternative styles of learning. This school has made a huge difference in our lives because it helped our son.
Lisa Spires is a Language Arts teacher at North Albany Middle School. Her son, Henry, transferred from West Albany High School to AOS and graduated at the end of 2015. He is now planning to study to be an electrician.
Be the first to know
Get local news delivered to your inbox!